To view pedigrees and performance information click on the animal's name.
| | |
| --- | --- |
| Sandman was selected for his outstanding length, muscle expression, correct structure, and fantastic feet. His dam has been a great producer and exhibits many of the same traits. She's a long bodied, docile, excellent footed cow with a beautiful front end and excellent udder. Sandman calves have come easily and have the extra rib, length, and hair that Sandman showed as a calf. We are really excited about his future in our herd. Contact us for your 2019 semen packages asap. They're selling selling fast! | |
| | |
| --- | --- |
| MacGyver is a maternal brother to Graceland, out of the same rock solid Georgina 1101 . With this superb maternal background combined with the real world fleshing, growth, scrotal, docility, and muscle expression of his sire SAV Resource, 5C is a no-miss herd sire prospect. MacGyver has been noted by everyone that has seen him as having "text book" perfect feet and leg structure with perfect hoof shape and heel depth. His first calf crop is setting the bar for muscle and performance in our herd. | |
Progeny Pictures
---
| | |
| --- | --- |
| Graceland is a bull that I am very proud to have bred and raised. He combines the performance of his sire, Elvis and the maternal power of his Grand sire, HF Kodiak into an incredible phenotype. He stands on a flawless set of feet and legs and has excellent scrotal development. Powerful, but not extreme Graceland exhibits muscle, loin and top that impress. Super hairy and docile as well! | |
Progeny Pictures
---
| | |
| --- | --- |
| Caliber was purchased to walk with our heifers and cover some of the cows that were tightly related to my home raised bulls and I haven't regretted a moment since the auctioneer said, "Sold!". Caliber is a stout, hairy, and correct bull with extreme rib and depth with big time scrotal and docility to boot. He also brings the influence of his sire MOGCK Bullseye that is highly sought after. In fact, Caliber was the only direct Bullseye to sell in Canada in 2016 and now he resides at NYK! | |
Progeny
---
| | |
| --- | --- |
| Elvis is a perfect combination of raw performance and numbers with near perfect phenotype and eye appeal. His EPDs and Zoetis HD50K profile rival the most influential sires of the breed. To top it off, his dam might just be the best female to ever step foot on N7 Stock Farm. Elvis calves are extremely docile and come stamped with extra length and muscle shape like no other Angus sire I've used. His bull calves have excelled in the show ring and in the bull pen. Our 2014 and 2015 high selling bulls were sons of Elvis and other sons proved very popular as well. His daughters will be his true legacy as each and every year the top calf in the pen is raised by an Elvis Daughter. | |
---
Powered by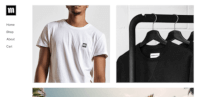 Create your own unique website with customizable templates.